FOZZY : Message from Sean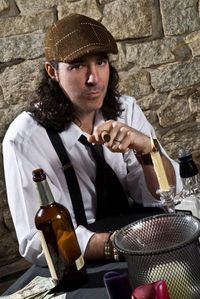 It's with great sadness we learned past friday that Sean Delson was leaving FOZZY. We wish him a lot of luck and fun with his new(-old) band AGENT COOPER. He made a huge contribution to the history of FOZZY and will always remain a member of the FOZZY family.
Here's the message he published on his facebook page :
"All good things…"
Sean B. Delson announces his "retirement" from Fozzy
Hello good people!
After nearly a decade of playing in Fozzy and enjoying the most fun you can pretty much legally have, I have decided to step down as the Bass Player for Fozzy and let some other lucky soul come in and live out their dreams. Playing in Fozzy has allowed me to achieve nearly 99% of all my musical aspirations. For that, I shall forever be eternally grateful to the band, and the team behind it. We have all played together in different bands throughout the years, and I have no doubt that somewhere down the road, at some point, we will share the stage again. A personal and heartfelt thanks goes out to Rich Ward, for always calling on me to play in every project that ever came his way, and for always believing in me. Thank you Rich.
In the years prior to my work with Fozzy, The Duke, and Stuck Mojo, most of you know that I was in a band called Agent Cooper. It was actually playing with Agent Cooper that led me to joining Fozzy. Rich came out to a showcase we were playing, and, after the gig, asked me if I would help him record his debut solo album. For you trivia heads out there, Frank Fontsere was playing drums that night with us (and is also a long time member of the Agent Cooper Alumni). After many records, tours, and just plain living the dream… I started feeling a calling to finish something that I had started many years ago. So, along with Mike Martin, Eric Frampton (you know these guys from Stuck Mojo, The Duke, and Fozzy), Doug Busbee, and our new drummer Ganesh Giri Jaya… I hope to see you all on upcoming tours in a town near you!
I'd like to close this announcement by offering up something personal and heartfelt about Chris Irvine (Jericho): I have never played with such a famous and successful celebrity before... And yes, he is larger than life. But in all the years I have known him, he has proven to be one of the most down to Earth and easy going guys I have ever played with. His work ethic is beyond compare, and I have never met a more tireless working professional.
I appreciate all of his support over the years, and ongoing well wishes for the future.
Thank you so much, for everything……. Chris, Rich, CS, Billy, and Mark!!
Sean B. Delson